Illusory Nationalism and its woes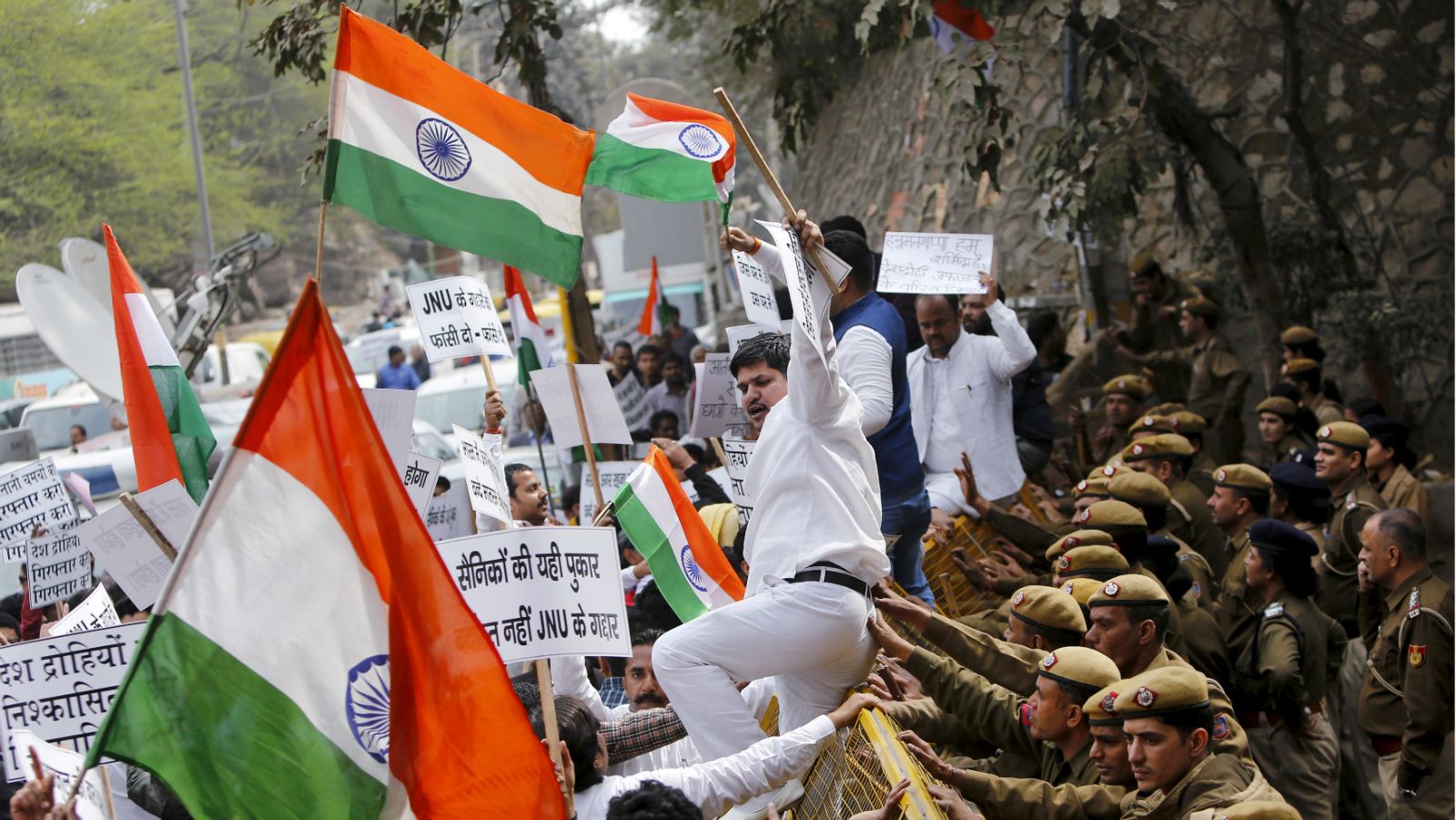 The year 2016 has almost neared its grave, with just a month left to start afresh another new year, bringing in new hopes and possibilities. Politics though would remain as taut as ever: the dynamics of change hardly affect its routine rhetoric. If there is anything that defined the sphere of Indian politics this year, it would undeniably and unquestionably be the contentious issue of patriotism and nationalism.
When ministers from India's saffron brigade extort money from producers for casting Pakistani actors, it can be branded an act of pretentious nationalism. When innocent Muslims and people from oppressed classes become victims of merciless torture in the name of religion and Bharat Mata, that is deceptive nationalism. When politicians hail the Security Forces on the border for doing a commendable job but engage in nefarious activities behind the public eye, that is pseudo-nationalism. The question is, why should I (and the common man) spare a second for terms that sound intellectual from the very start? The answer is unambiguous and straightforward: the menace of playing with jingoistic sentiments have started producing evident cracks in the societal fabric, and this is serious enough a matter that we need to take up on an individual level.
When Modi was elected in the 2014 General Elections, a ripple of patriotic fervour ran across the length and breadth of the nation. Popularly termed the "Modi wave", it had its own charisma. Modi was the perfect ambassador of nationalism, blending it with the diktats of the Rashtriya Syamsevak Sangh: strong, firm, intimidating and unrelenting. Right in the first year of his office, the PMO was challenged with the task of responding to inter-religion conflicts that spiralled exponentially everywhere in India. There even were incidents of violence against the Christians, when the holy altars were vandalised in churches, and the PM had to explicitly voice his cajoling message to the community to reassure them. In the wake of the Dadri lynching, Manohar Lal Khattar, a senior BJP member and the Haryana CM, remarked that Muslims would have to give up beef if they were to remain in India. Despite promises, not much has been achieved, and such happenings are becoming even more common by the day.
The government has found an effective weapon in the form of the archaic and demonic sedition law that still finds a mention in the Constitution of the world's largest democracy. During the Raj, the sedition law was used to bring to book any person suspected of having links with revolutionary movements. Under Modi, section 124(A) of the Indian Penal Code breathes its life once again. It bluntly states:
Whoever, by words, either spoken or written, or by signs, or by visible representation, or otherwise, brings or attempts to bring into hatred or contempt, or excites or attempts to excite disaffection towards, the Government estab­lished by law in 103 [India], shall be punished with 104 [im­prisonment for life], to which fine may be added, or with impris­onment which may extend to three years, to which fine may be added, or with fine.
Sedition charges are now being slapped at will without due consideration of the serious nature it beholds. People get labelled with a sedition charge for supporting a rival cricket team, inadvertently liking Facebook posts, and sketching cartoons. The very malice that our founding fathers tried to do away with has struck chords with the government. This provision has now metamorphosed into a tool of vendetta politics more than anything else. Sedition law is one such draconian law from the past that needs to be crushed into the garbage bin of legal archives.
If "anti-national" slogans are against the law, it only means that from being colonised by the British, we are now colonised by patriotism.

— Ramesh Srivats (@rameshsrivats) February 13, 2016
The Supreme Court is considered the apex judicial body for more reasons than one. Over the course of years, it has earned the trust and acclaim of the general populace: some of its judgements have drastically changed India. From granting a clean chit to Narendra Modi over the 2002 Gujarat communal riots to formalising the entry of NOTA (None of the Above) in electoral machines, decisions made by the Supreme Court have mostly been revered. With all due respect to the Supreme Court, I express my sincerest concerns over an order passed by the SC bench yesterday that is outright unjustifiable and appears irrational: a mandatory fifty-two seconds worth of national anthem needs to be played before a movie starts in the theatres. I wonder why all of the "anti-nationals" and alleged traitors from the JNU campus were not subject to such devices of instilling patriotism before? Although I have my highest admiration reserved for the Supreme Court, this is something I cannot comprehend, or rather believe, to be coming from the highest Court of the land. How much of chauvinistic passions can we embed in a person by making him mandatorily sing the National Anthem? Pardon me for this sardonic contrast, but I cannot resist myself from asking how odd it would be to sing the National Anthem moments before a film like Mastizaade or Grand Masti, cheap as they are, starts playing.
Why is Bharat Mata Ki Jai such an important catchphrase for all right-wing elements in the nation? It can be easily deduced that this phrase gives the fustian, pompous 'nationalistic' people yet another excuse to justify their otherwise illogical arguments and actions. People who believe themselves as crusaders of "Indian-ness" need to re-evaluate their beliefs. India is an independent entity of 1.2 billion people, diversified by languages, culture, and practices, but united by a common identity of citizenship. The success recipe to great democracies lies in participatory politics and not repressive ones, engaging the masses and walking towards a common goal. There will always be disagreements, but that is a part and parcel of administration work.
To all those people who believe themselves to be agents of propagation of Indian culture and traditionalism, I play your card on your face: We have our security forces manning the borders, defending India with their zeal and vigour. We do not need you to define nationalism for us.