The Kejriwal Kaleidoscope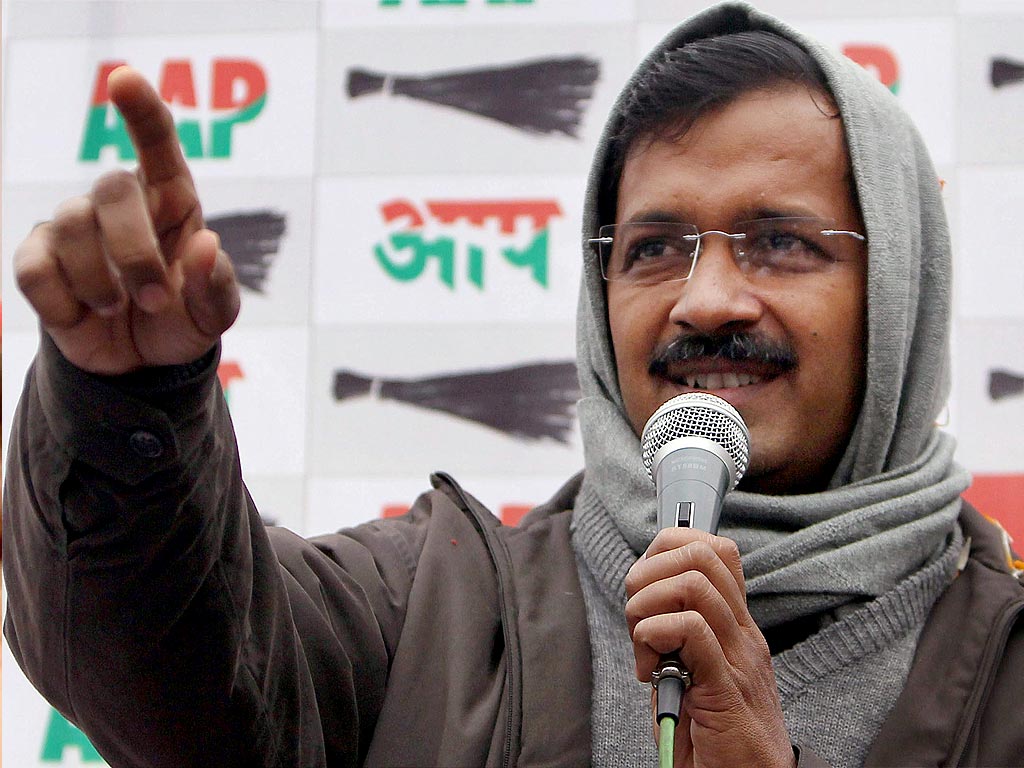 There is a fine line between a government that is deemed successful and a government incapable of tending to even the most basic needs of its own citizens. Is Kejriwal a success, or has he proved to be a total failure? Has Kejriwal remained loyal to his pre-election manifesto, or does he still loom among the corridors of uncertainty? Ask any aam aadmi and it does not require much of wit to come up with an answer that bears strict resemblances to the latter proposition of failure.
It would be worthwhile to disclose that I had, on a personal level, supported Kejriwal in his second run for Chief Ministership. Although his previous government had a tenure of a mere count of forty-nine days, that tenure had some glimpses of positive reform in it. President's Rule followed, and then came the big State elections. People felt that the Aam Aadmi Party deserved a second chance; a chance that pardoned any blunder that the government might have made earlier, and a chance that promised a fresh start to the party. There was an ambient sensation that there was, finally, a political startup that had all the right ingredients: a reputation unblotted by the taint of any unethical offences, and a promise to bring in populist reforms by cutting down on corruption. As history has it, Kejriwal took the vow of office on the fourteenth of February, 2015, pledging to remove all traces of corruption and misgovernance. That pledge now looks no more than a cruel irony to me.
At the end of this period, the only thing that has kept Kejriwal's party alive is the rhetoric of blame-game politics. From verbal wars with the Lieutenant Governor of Delhi to branding the Prime Minister a 'psychopath', he has left no stone unturned in this dirty game of his. It is possible that Kejriwal might have had no practical experience of running a government before. It is acceptable that the claims inscribed in his pre-poll manifesto may have been, after all, hollow and rather tall. However, that is no excuse to run away from the responsibilities. Over the present incumbency, instead of trying to rectify the domains of concern and areas that required a vigilant eye, he has played with the victim card. As a Chief Minister, that is an indefensible and lame rationale to justify his position. If you start something, you have to be the person to take the initiative to make it a success, and you have the sole responsibility to bring it to a terminating point. That essentially means to discharge one's responsibilities in the most efficient way possible. Despite several litigation cases and his personal attacks on State dignitaries, Kejriwal has had no time to rest. Mud-slinging has become his day job, and the common man in Delhi has to bear the brunt of the Centre-State friction. In politics, it is expected that there would be tensions. Although unhealthy, the State administration has no right to put the populace in trouble by trying to point fingers at others. That is not good management, that is poor administration at its height. Going by the rigorous standards, Mr CM has scored a big zero. Perhaps, a negative mark.
The second of the unpardonable mistakes that Kejriwal has committed in his second stint is the failure to realise and implement his manifesto highlights. Plans of installing a million security cameras, making free Wi-Fi a reality in Delhi, establishing nine hundred public health centres, halving electricity bills and a promise to make potable water available free of charge have all gone haywire. The Public Works Department under State control could not carry out repair works pegged at less than two crore rupees, due to an acute lack of funds as per government sources. Is it not ironical that the party had sanctioned 526 crores in its advertisement and media campaigns, from the public exchequer, and then shamelessly professed the cause of severe deficiency of funds? This is a clear case of illicit duplicity and two-facedness. It has also failed on its pillar point in the manifesto: to get rid of the VIP Culture. If a four-hundred percent increase in salary is not a mirror of the VIP culture, I do not know what that means.
Kejriwal has not only politicised the issue of rapes and safety of women in the NCR region but also made a fool of himself in the domestic sphere due to the state of affairs that clearly show the tables have turned. For example, the Muffler Man used to launch diatribes against Sheila Dikshit, the former CM:
Sheila Dikshit's response after each rape – "what can I do? Delhi police not in my control." Do we want such a helpless CM?

— Arvind Kejriwal (@ArvindKejriwal) June 27, 2013
More often than not, we find Kejriwal the helpless person. In fact, when questioned about rising deflowering statistics, he has replied with the same rationale of the Delhi police being under the Central government and not directly reporting to the State administration. Under his administration, rapes have gone up by 27% from 6488 in 2014 to 7566 in 2015. Despite assurances of explicit arrangements being made to avoid any excuse or slip-up, only nine fast track courts have been established. What is worrying is that the trial for ninety-three (93%) percent of the accused are pending for the last three years. How perfect an example of hypocrisy is that?
There are a thousand other realms where he has equivalently failed. He has metamorphosed from an idol of reverence to just another uncontended politician looking to serve his own interests. He has transfigured from the ideal democratic figure to the unwanted dictator in the group. The expulsion of senior henchmen like Yogendra Yadav and Prashant Bhushan only offered a peek into the divisiveness and factionalism that pervades the group. Their expulsion sent a clear message that Arvind has sought to be the chieftain for his own political mileage; and that he is not ready to sacrifice it for anything else. While going through the news today, I found that Kejriwal has again resorted to hasty decision making, his supreme nemesis and his bete noire, by asking for the rollback of the demonetization move. Is he unaware that a rollback of the demonetization at this point of time is just a silly proposition, and that it has no pragmatic value attached to it? As a responsible politician who uses his office of legislature well, it would be his duty to suggest changes and amendments. Kejriwal, who seeks exclusivity from the rest (but yet finds solace confiding in Mamata and the Thackerays) has made it his signature move now to make such abrupt demands that are difficult to comprehend in any possible interpretation.
As a previous supporter, I feel betrayed, and this is perhaps the case with the vast majority of Delhiites who trusted Kejriwal with sixty-seven out of the seventy seats in the Delhi Legislative Assembly. Every Delhiite feels robbed of his voice and feels crushed under the onus of misgovernance. Running a State Government is not a child's play, and hence Kejriwal should realise immediately that no amount of excuses can render him free from all allegations of poor governance. No one would listen to how the Centre did not cooperate. After all, when life gives you lemons, you ought to make a lemonade. His childish moves and comments have irritated all sane-thinking people (including me), and I would be eagerly awaiting the next State elections. There is no point warring with the Lieutenant Governor when you cannot resolve your internal disputes and cracks. Arvind Kejriwal has mutated into a dictatorial figure with no clear aims, a rudderless tug-boat venturing in the stormy seas of national politics.
If people say he is an anarchist, I would heartily agree with it.